Presently accepting clients
Wellington
Charismatic, Contemplative, Welcomes LGBTI+
Contact details
Add to favourites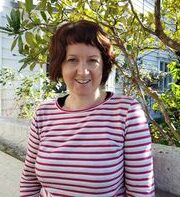 Religious background
I have been hungry to know more of God since I was a child and became a follower of Jesus through the care and gentle questions of intermediate-aged school friends. My family then had a faith awakening and became part of Anglican and then Pentecostal churches in my teens and I was a member of very creative and honest Baptist and AOG churches in my twenties.
I love to hold space for others to explore their everyday experiences of spirituality and God – whether people feel they are religious or not.
I deeply appreciate the company of other people keen to go deeper in their experience of the spiritual life. For me, this has been in many beautiful forms: with intentional Christian community in inner-city Wellington and among university students, as a Vicar's spouse for 13 years in an Anglican Church in Wellington. I am ordained as an Anglican Priest and minister as an Ecumenical and Anglican Chaplain at Victoria University in Wellington.
Approach to spiritual direction
Rainer Maria Rilke famously wrote, "Be patient to all that is unsolved in your heart … live the questions now". In Spiritual Direction I find myself forever moved by the humility and beauty of others' questions, wonderings and celebrations about the holy in everyday life. Spiritual direction is a warm and curious companioning to help you trace your desire for the sacred, voice the questions, notice the invitations, the absences, and allow that which is painful to be held before God.
I believe we are met by the grace and kindness of God in every circumstance of life and time with a spiritual director helps us to welcome this more deeply.