I offer Spiritual Direction online as well as in person
Trained and offers supervision
Presently accepting clients
Manawatu-Wairarapa
Inter Denominational, Open Brethren
Chaplaincy, Grief and Loss, Men's spirituality
Charismatic, Contemplative, Covid Vaccinated, Evangelical, Leads Retreats
Add to favourites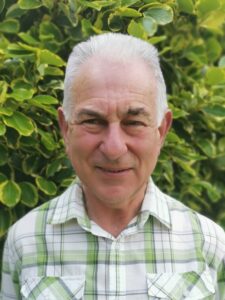 Religious background
Have grown up in a Christian heritage family where we experienced a balance of family, church, missions, work and daily living in our neighbourhood. I have always had an active interest in sport, gardening, and enjoying holidays whether it's camping or trips overseas.
In church life I have been involved in community ministries, industrial chaplaincy, church leadership for over 30 years. Completed the SGM course and now have been offering spiritual direction for over ten years, supervision and retreats for over 5 years. The last 2 years being on the ACSD Executive team.
I value having the opportunity to represent ACSD membership on the Executive to ensure that the core values, culture, ethics, constitution, training, personal development, etc are upheld so that Christian Spiritual Directors have an association that ensures that this ministry can continue to support and enable SD's to effectively offer soul care in a safe environment while building God's Kingdom.
Approach to spiritual direction
Over the years I have always enjoyed encouraging, discipling and mentoring people in their life journeys and then when I was introduced to Spiritual Direction I became aware of a deeper companioning which has really enriched my life as I have journeyed with God and others.