Add to favourites
Visiting Scholar in March 2020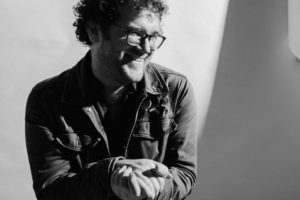 Pádraig Ó Tuama is a fascinating and engaging theologian, poet and mediator. He has worked in conflict resolution in Ireland, Africa and the Middle East. He brings interests in language, violence and religion to his work.
Up until very recently, he has been leader of the Corrymeela Community – a peace and reconciliation organisation in Northern Ireland.
Please mark your diaries for the week of
15 – 21 March 2020
Pádraig's work addresses issues of language, power, reconciliation and religion. He is the former leader of Corrymeela, Ireland's oldest peace and reconciliation organisation. His numerous books include In the Shelter, Sorry for Your Troubles, and Readings from the Book of Exile, and he presents the #1 Apple Arts Chart podcast Poetry Unbound, from the On Being project.
Here is where you can engage with him in the third week of March…
"I Thirst"     A sermon on John 4:5-42 on the Anniversary of the Mosque Shootings St John's in the City Presbyterian Church, Corner of Willis and Dixon Streets, Te Aro, Sunday 15March, 10:00-11:15am
Telling the Truth about Power     A public lecture Hunter Council Chamber, Victoria University of Wellington, Kelburn, Wednesday 18 March, 7:30-9:00pm
The Complicated Art of Reconciliation    A public lecture Hunter Council Chamber, Victoria University of Wellington, Kelburn, Thursday 19 March, 7:30-9:00pm
Spirited Words: Grief, Protest, Hope    A poetry exchange – Readings and conversation about the pleasure and perils of crafting religious poetry today with acclaimed poets Pádraig Ó Tuama and John Dennison, together with Gregory O'Brien Adam Art Gallery, Victoria University of Wellington, Kelburn, Friday 20 March, 3:00-4:30pm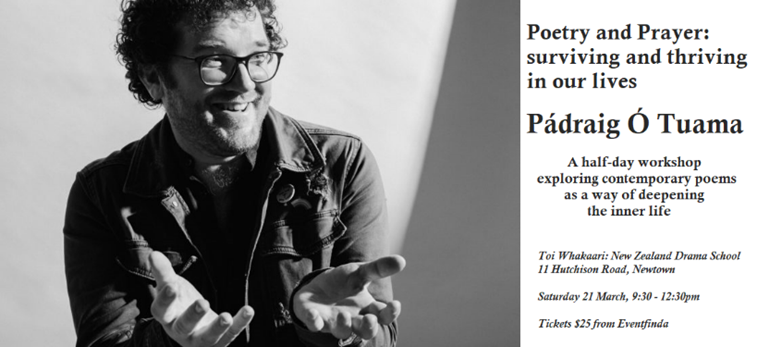 Poetry and Prayer: Surviving and Thriving in our Lives    A half-day workshop exploring contemporary poems as a way of deepening the inner life. Toi Whakaari: New Zealand Drama School, 11 Hutchison Road, Newtown, Saturday 21 March, 9:30-12:30pm Tickets $25 from Eventfinda: https://www.eventfinda.co.nz/2020/poetry-and-prayer-surviving-and-thriving-in-our-lives/wellington-region
Some of the poems will be about prayer, others not.|
Some are written by religious people, others not.
Some of the people attending will be people of faith, others not.
Take precious time to join us on a quest to deepen life, deepen community, deepen discussion and deepen understanding of both the inner and outer lives.
Poetry and Prayer workshop: Facebook Event