Full Member of Association
I offer Spiritual Direction online as well as in person
Trained and offers supervision
Presently accepting clients
Canterbury
Canterbury / Christchurch
Creativity and Spirituality, Wellness, Women's spirituality
Contemplative, Covid Vaccinated, Leads Retreats, Welcomes LGBTI+
Contact details
Add to favourites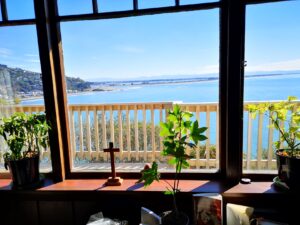 Religious background
I am an Anglican and have been for all my life except for a period in my teens and early 20s when I would have called myself an agnostic.
My spirituality is rather more broad than strictly Anglican. I appreciate many of the aspects of Roman Catholic and Eastern Orthodox theology and have a love of the Desert Fathers and Mothers, and various mystics through the ages.
My spiritual journey started as Evangelical, has moved through Charismatic, and is now firmly rooted in the Contemplative.
Approach to spiritual direction
I am a Benedictine Oblate so aim to live my life according to the principles laid out by St Benedict in his Rule for monastics. I believe that God is always and everywhere active in our lives – our spiritual journey involves becoming aware of how God is present to us in each situation. These beliefs form the basis of my spiritual direction practice.
I enjoy working across denominational boundaries. I have a MA (Spirituality) from the Oblate School of Theology in San Antonio Texas.
I am a retreat leader having led preached retreats of various lengths (with Spiritual Direction) on Julian of Norwich and Teresa of Avila. I also have led silent retreats. My favourite venue for leading retreats is Sr Eveleen Retreat House in Sumner.
I am trained in the CAIRA model of Pastoral Supervision and I am also a member of CAIRANZ.
I have been an active member of my local Anglican parish for over 30 years and I am a Licensed Lay Minister, licensed as a worship leader, preacher, and catechist. I have held several other positions of responsibility within the Diocese, my parish, and in both ACSD & CAIRANZ.