I offer Spiritual Direction online as well as in person
Trained and offers supervision
Presently accepting clients
Canterbury / Christchurch
Inter Denominational, Methodist
Charismatic, Contemplative, Covid Vaccinated, Ignatian Spiritual Directors, Leads Retreats
Contact details
Add to favourites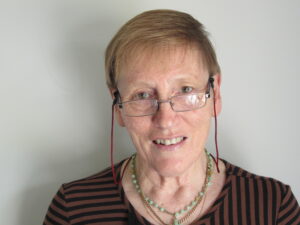 Religious background
My Christian experience has been wide ranging, beginning in the Presbyterian church in which I was raised. This then 'morphed' through the Jesus Movement of the early 1970s into an eclectic mixture of the Charismatic church in its varietals from Catholic to Anglican, from AOG to Open Brethren. All of this shaped me in rich and fruitful ways of interaction with followers in the wider church, for which diversity I have always been extremely grateful.
My husband's philosophy has always been to worship in the nearest community church wherever we have settled in our various moves, and this has been really rewarding in friendships and unity.
For the past 37 years we have been worshipping in the local Community Church in Opawa, Christchurch, under the aegis of the Methodist Church of NZ. In recent months, since my husband's death, I have dared to act on God's initiative and invitation and I have committed myself to a local Wesleyan Methodist congregation, 'The Well', named in honour of the place Jesus met the woman from Samaria.

This is a vibrant, young, community-focused, prayerful community, who value the spiritual disciplines and a liturgy, alongside joyous worship and rich scripture teaching, with a penchant for small groups just like John Wesley advocated. I am feeling 'at home' with scope for me to offer loving service and hospitality in this milieu.
Approach to spiritual direction
I am professionally trained as a midwife, which I consider informs my whole perspective in offering Spiritual Direction, as God is all ways desiring to gestate in us through waiting seasons and even loss, to bring the mystery of unexpected surprises to birth in our lives.
Margaret Guenther opines a midwife is a 'with woman' who offers her 'with-ness' in keeping another company along the journey, one who provides empathic support; a 'listening into clarity'; and the freedom to explore the 'terra incognita' of the soul's desires. I consider the matrix for this is elicited through the reciprocal gift/trust of soul friendship, that I endeavour to proffer over a wide ranging denominational melange.
I offer the Spiritual Direction space as a permission-giving opportunity for another to explore some of the spiritual disciplines like silence; stillness; lectio divina; imaginative prayer; personal prayer; imagery; prayerful interaction with music, drawing, or collage; poetry and assorted resources; as well as intercession. Additionally I curate silent, contemplative Quiet Days and Retreats during the year.
My twenty years of practice has been 'formed and informed' through an Ignatian Spirituality lens of training in NZ and Australia. I regularly gift individuals 'The Spiritual Exercises of St Ignatius of Loyola' over 12 -18 months, which may then segue into a facilitated spiritual formation group. It is a richly textured invitation to deepen experientially and prayerfully in our relationship with God.
Further, I provide clinical pastoral supervision to clergy and those involved in pastoral roles within communities, schools, chaplaincy, guidance and/or mentoring relationships.