Full Member of Association
I offer Spiritual Direction online as well as in person
Trained and offers supervision
Presently accepting clients
Manawatu-Wairarapa
Anglican, Inter Denominational, Open Brethren
Creativity and Spirituality, Grief and Loss, Wellness, Women's spirituality
Charismatic, Contemplative, Covid Vaccinated, Evangelical, Leads Retreats
Add to favourites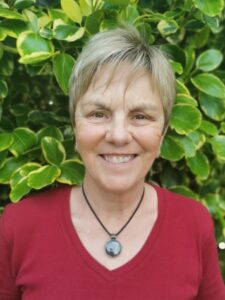 Religious background
I have known God all my life. There isn't a time when I have not known Jesus experientially as a friend. I have always been able to relate to God as Father, because of the way my own father loved and accepted me.
That doesn't mean though that I have walked the faith journey without stumbling, going down dead-ends, struggling to let go of control, or expecting God to 'fix', or be and act according to my agenda!
Over the years my image of God has deepened, images I have held dear have had to be relinquished and long held beliefs have needed to be grappled with. I have become more content with embracing mystery. Doing so has enriched my prayer and my faith.
I have always been a committed participant of a faith community. As a child we went to a little country Anglican church, although our family had friends from many denominations.
As a young adult I was fully involved in Youth for Christ. When I met my husband, Lew I joined him at the Open Brethren Church he attended.
A significant time for me in my faith journey was when Lew and I and our three children attended BCNZ, now Laidlaw, where I not only enjoyed learning but the deepening faith that developed when we had to rely on the Lord to provide all our needs.
Since then been involved with community work, offering counselling and the last 10 years Spiritual Direction..
Approach to spiritual direction
I love having the privilege of accompanying others on their spiritual journeys, helping them to notice the God moments/grace moments and become more attuned to God's movement within their everyday lives.
It is my desire to create a safe space where we acknowledge God's presence and directees can feel listened to and feel free to raise whatever they need to grapple with, explore, celebrate or wonder without judgement.
To listen to another in such away, that I can assist them to hear what God might be saying, his invitations to them and their response.
When someone approaches me seeking spiritual direction, I like to invite them to come and meet with me first, either face-to-face or online, so that we can get to know a little of each other before deciding if I am the most suitable person for them at this time.