I offer Spiritual Direction online as well as in person
Auckland / West Auckland
Catholic, Ecumenical, Inter Denominational
Chaplaincy, Climate Change, Creativity and Spirituality, Grief and Loss, Social Justice, The Environment, Women's spirituality
Contemplative, Covid Vaccinated, Leads Retreats, Offers a retreat place, Welcomes LGBTI+
Contact details
Add to favourites
Not presently accepting clients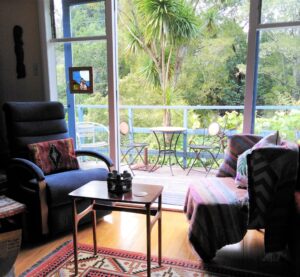 Religious background
I am a 'cradle' Catholic, though I absented myself from things 'church' in my 20s and explored a friend's evangelical church before re-rooting myself in a Catholic worshipping community. I studied theology at a wonderful Anglican/United/Presbyterian theological school in Vancouver and also made life-long Unitarian friends there. I have been in Aotearoa for 33 years, and a member of Sacred Heart Parish in Dunedin, the Cathedral Parish in Palmerston North, and St Ben's / St Paul's Rongopai Eucharistic Community in Auckland (for the past 21 years).
My spirituality has been formed by a wealth of spiritual writers from the Scriptures through the early church theologians and the mediaeval mystics to Thomas Merton, Dorothy Day, Rosemary Ruether, Richard Rohr, Ilia Delio, and Pope Francis – as well as many mentors, teachers and friends. From childhood to the present, my time and adventures in nature, my studies and work in ecology and theology, and a call to social justice continue to shape my contemplative stance towards life.
Approach to spiritual direction
Spiritual 'direction' is accompanying people on their life and faith journeys, helping them listen and watch for 'glimpses' of God's presence in their lives. Some people come to spiritual direction when they are in one of life's many transitions – growth, change, loss, questioning. I love it when people come with lots of questions!
My first role as a spiritual director/companion is to listen: to listen to each person, to hear their stories of joys and sorrows and longings, and to help them discern the sometimes quiet and hidden voice of God within. I encourage 'directees' in whatever ways of prayer best help them spend time in, become aware of, and open themselves to God's presence.
Each person brings unique and precious experience of life and God to spiritual direction sessions. Whether conversation is about relationships, family, study, career, change, church, ministry, health, loss, aging, prayer, or who or where or if God is – spiritual direction touches on the whole of life, including the unfathomable beauty, goodness and mystery we call God.
The people whom I accompany come from many backgrounds, ethnicities and denominations – Methodist, Anglican, Presbyterian, Evangelical, Baptist, and Catholic – all are most welcome.