I offer Spiritual Direction online as well as in person
Presently accepting clients
Canterbury / Christchurch
Anglican, Ecumenical, non denominational, Presbyterian
Climate Change, Creativity and Spirituality, Hearing God in nature, Interfaith, Social Justice, Sustainability, The Environment, Treaty Partnership, Wellness, Women's spirituality
Contemplative, Covid Vaccinated, Welcomes LGBTI+
Add to favourites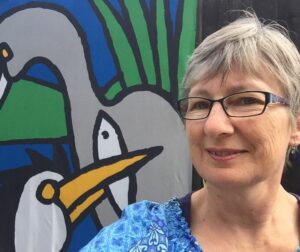 Religious background
I grew up in a vicarage (Anglican) family, married a Catholic, and currently worship as part of a Presbyterian community! I have friends of different denominations and faiths – and no particular faith – but recognise the depth and breadth of spirituality and spiritual practice. Labels are not really that important to me, but helping people live authentic and value-driven lives is. I enjoy 'deep' conversation.
As an off-shore and coastal sailor, I am continually in a state of wonder at the sea/moana and nature generally. Creativity and movement (stretching, dance) bring me a sense of curiosity and wellbeing. We can all be co-creators with God.
As a result of a work injury in my 20s, I understand the connections between body, mind and spirit.
I am still 'becoming' (in mid-life) and hope you join me in 'becoming' and seeking the 'aliveness' God is calling you to.
Approach to spiritual direction
I offer a confidential, non-judgemental and expansive space: to explore and ask questions; connect faith with your daily life (and vice versa); and deepen your relationship with God (the animating force of the universe, Source of Life and Love, and whatever reference you use). Open to gender inclusive God-concepts and language. Open to everyone regardless of church affiliation (or none).
I somewhat liken a spiritual director to a spiritual 'life coach': we help people explore and develop a meaningful spirituality or faith in the context of their life. Our time together is usually an hour once a month and is self-directed (what you do and don't share and explore is up to you). My primary role is to listen and reflect back in helpful – and non-judgemental – ways.
Questions that might be niggling you at the moment:
Does God feel a bit distant? Or is nudging you in some way?
How is your faith impacting your daily life, and vice versa?
What is bringing you purpose and meaning?
What spiritual practices bring joy? What's in need of a change?
For a free initial conversation, get in touch.
Zoom sessions also available.