Full Member of Association
I offer Spiritual Direction online as well as in person
Trained and offers supervision
Presently accepting clients
Otago Southland
Abuse survivors, Creativity and Spirituality, Grief and Loss, Interfaith, Mental Health, The Environment, Women's spirituality
Contact details
Add to favourites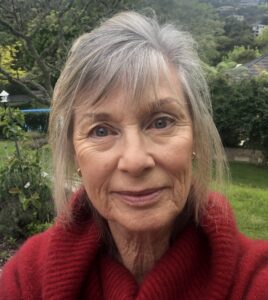 Religious background
I began in my late 20's with a Pentecostal experience of being "born again" and speaking in tongues. I have remained as part of that body of Christ ever since and enjoyed the charismatic / evangelical emphasis for some time.
However, from the beginning and increasingly I felt uncomfortable with the exclusive nature of believing the charismatic way was the right (and only) way.
I was delighted some 15 years ago when I came across Centering Prayer and the Contemplative Christian traditions which resonate with being open to the mystery of God's loving presence rather than a prescriptive certainty.
Discovering the formation programme for spiritual direction in 2016 was my introduction to a body of people from diverse backgrounds and streams of Christianity coming together in an inclusive, non-judgmental way.
I now enjoy a prayer life which embraces the charismatic as well as silent, contemplative ways of being. Each day I am open to letting go of the many layers of unhelpful, divisive attitudes I unconsciously hold as the Spirit leads me on.
Approach to spiritual direction
I came to spiritual direction in my later years after working as a psychologist for 30 years and after some difficulties in defining the boundaries between the two disciplines I have come to a place where they inform each other and blend well.
The role of companioning someone on their journey into the Loving Mystery of God is a privilege. My intention is to listen deeply without judgement, open to all aspects of being because every part of a person; mental, emotional, relational and spiritual is grist to the mill of life and is an invitation drawing us closer to the realisation of Emmanual (God with us).
Now based in Wanaka