I offer Spiritual Direction online as well as in person
Trained and offers supervision
Presently accepting clients
Canterbury / Christchurch
Anglican, Baptist, Ecumenical, Inter Denominational, Post Church
Chaplaincy, Church Leadership, Grief and Loss, Hearing God in nature, Social Justice, Sustainability, The Environment, Treaty Partnership, Wellness, Women's spirituality
Charismatic, Contemplative, Covid Vaccinated, Facilitates spiritual formation groups, Leads Retreats, Offers a retreat place, Welcomes LGBTI+
Contact details
Add to favourites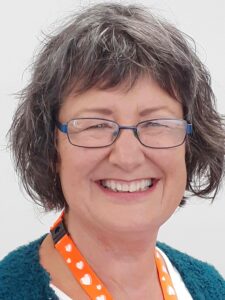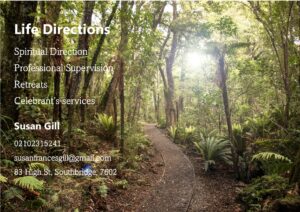 Religious background
My grandmother prayed for all her grandchildren every day. She was delighted when I came to faith in a Baptist church at age 17.  Since then I have been involved in many churches as we have moved to different geographic spaces – mostly Baptist though.
For the last 20 years the lure of the Anglican Communion and liturgy called me to be part of that denomination. I have been ordained for 15 years as an Anglican priest.
That said, I spend regular time with folk for whom church holds no appeal whatsoever and I'm particularly aware of the harm some have experienced in and from churches. I myself encounter great love and frustration, in roughly equal parts, from church life and leadership.
Currently I am an Associate at All Souls Church Merivale. I am very pleased that our church is one of the very few churches listed on the web as a LGBTQI+ affirming church.
My faith journey includes regular walks, amateur photography, reading, podcasts, silence, journalling and learning to simply be.
Approach to spiritual direction
It seems to me that the Spirit, Breath, Wind of God is at work everywhere in this beautiful and fallen world; constantly speaking and offering invitations to join with Godself (whatever language one uses for the Divine).
The Spiritual Director's role, as I see it, is to help the one who comes for direction to notice where God is present in their own life and the life of others.
In Spiritual Direction I try to discern the Spirit whispers occurring and to help the one with me to hear those whispers and direct invitations for themselves.
We live in the country but I offer Spiritual Direction in different venues in Christchurch and surrounds and can also do that on line.