I offer Spiritual Direction online as well as in person
Presently accepting clients
Auckland / Central Auckland
Anglican, Baptist, non denominational
Abuse survivors, Creativity and Spirituality, Grief and Loss, Social Justice, The Environment, Wellness
Charismatic, Contemplative, Covid Vaccinated, Interactive Drawing Therapy, Leads Retreats, Speaks German, Speaks Mandarin
Contact details
Add to favourites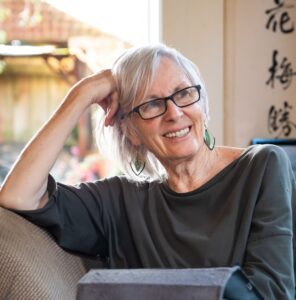 Religious background
I see myself as a pilgrim on this earth, non-denominational and international. I was raised Anglican, later encountered Jesus in a charismatic setting, and then followed his leading to mission work in Europe and Asia for many years with different interdenominational groups.
Since returning to NZ my life has been deeply enriched through Contemplative spirituality and the joy of encountering God in stillness and reflection. I have landed in a Baptist church and continue different mission threads.
Approach to spiritual direction
I care about people finding the way to a deeper connection with the God who loves us, but the how and even the desire is often not clear, and life can be complicated. We need a place to pause and reflect in the presence of another.
I see spiritual direction as an opportunity to untangle life and our longings in the presence of a companion who is seeking to listen deeply both to the person, and for what might be the nudges and invitations of God in their journey.
It can be a place of discovery and fresh insight in the 'ordinariness' of life, often coming through quietness or creative means, available to anyone whatever their age or stage.